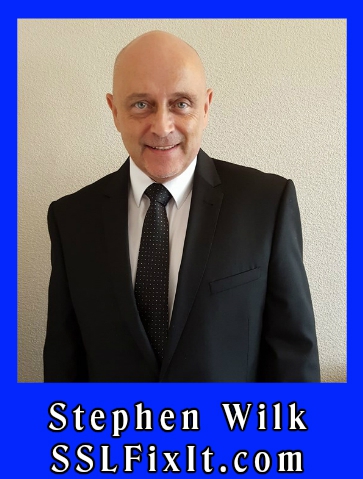 - December 18, 2017 /PressCable/ —
Ahead of the launch of its new SSL certificate installation service for WordPress websites, SSLFixIt.com is making public 3 as yet unreleased facts about the service, set to go live 18 12 17, which prospects, business or online owners with WordPress websites will find interesting…
The 3 items include nuggets such as how:
The idea for creating the new SSL certificate installation service for WordPress websites came about as an extension of our other online business services. We decided after various inquiries from WordPress clients, that there would be problems for WordPress website owners, both business and online users, not knowing how to comply with new requirements SSL certificate installation demands. SSLFixIt.com have a frequently asked questions page for those wishing to have other questions about SSL answered and can be found at https://sslfixit.com/faqs/
These problems became much more acute after Google announced the next stage of SSL certificate requirements for websites. Google began showing a security warning for websites gathering input data from October 2017. As this warning will eventually apply to all websites without an SSL certificate, this is a problem that will only get worse for business and other website owners.
The new service for SSL certificate installation for WordPress websites service has actually been in development for nearly 3 years.
Stephen Wilk the business founder says that "We have been creating websites with the SSL security certificate as a base building block for a couple of years. We were therefore familiar with the various problems that can arise installing the certificates. Other problems can also arise subsequently if the website is displaying certain content that the SSL certificate is not protecting. This is particularly the case when an SSL certificate is installed into an existing website. We have refined our processes over this time to include a full process and quality control check to ensure such problems will not arise".
"Our team initially consisted of 3 people who over the development of our processes and quality control methods have created our internal bespoke processes".
Stephen says that "in comparison to our competitors our team size would be considered about average by industry standards. This goes to show that a huge team is not always required to perfect a new service to a quality standard"
SSLFixIt.com almost wasn't able to bring the new SSL certificate installation service for WordPress websites into operation. The biggest challenge in establishing the new SSL certificate installation service was refining a process and method to ensure content was displaying with the correct security protection after installation.
This could often be a problem on an existing website. The challenge was eventually overcome by using a combination of existing tools and a specially developed piece of software we commissioned. This speeds up the identification and elimination of the problems.
SSLFixIt.com has done something different compared to other businesses in the SSL certificates pace. Stephen says "The software that was specially developed, has, we have found, really set us apart from our competitors. This is because we are able to resolve content problems as part of our quality control process. Some competitors install SSL certificates but are unable to resolve the display of content that is not covered by the SSL certificate. This leaves the website owner with an ongoing problem, as security warnings will still display saying that content on the website is insecure. Our service means WordPress website owners do not need to worry about this problem.
The release of the new service SSL certificate installation for WordPress websites is part of SSLFixIt.com's greater objective, which is "part of our larger plan, to raise awareness of this problem amongst our target market, which is WordPress website owners. We aim to inform them of the problem and how it can be successfully be resolved. We expect this to be an ongoing issue with older WordPress websites but we hope to achieve our main goals within the next 5 years".
SSLFixIt.com grew when founder Stephen Wilk noticed an increased need for the service, particularly after Googles latest update in October 2017.
Stephen Wilk, the founder, has 20 years experience in the related IT and online website marketing industry, as well as prior experience in dealing with business owners with WordPress websites.
Stephen Wilk is quoted saying: "We like to do things to connect with our consumers and prospects. We like keeping them up to date with the latest trends and developments that affect their business or online presence, by publishing a monthly newsletter full of the best news, relevant stories and little factoids.
SSLFixIt.com are releasing their new service, SSL certificate installation for WordPress websites and this is set to launch on 18 12 17. To find out more about SSLFixIt.com and the new service, visit https://www.sslfixit.com
Release ID: 278886