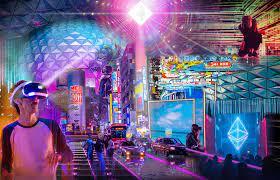 - December 5, 2021 /NewsNetwork/ —
"Possibly the next Amazon of Web 3.0" is what Coinmanrketology.com is calling MetaMundo. Rumours are already starting to circulate among observers and die-hard fans within the metaverse and NFTs world, as the 'Live' date for MetaMundo draws near. Coinmarketology's review of MetaMundo was also released and reviewers and critics can expect to get a better understanding of its roll in the Metaverse explosion.
A research report published in late November by industry titan Grayscale predicted that the metaverse sector could soar to $1 trillion in value over the coming years as mainstream audiences become actively engaged and immersed in these burgeoning virtual worlds.
MetaMundo is creating a network of 3D creators and tools that make it possible to build the multiple emerging open metaverse environments.Some things MetaMundo will offer are a vast library of items including avatars, wearables, vehicles and buildings, among others.
MetaMundo is built on Polygon, the eco-friendly blockchain, which means the minting and selling of the assets will have very low gas fees compared to Ethereum and will use 99.5% less energy. It also means the assets will be interoperable across Polygon-based metaverses such as Decentraland and Somnium Space. MetaMundo will offset any carbon emissions made from the transactions on Polygon.
The assets made available on MetaMundo are desirable premium collectibles created by a curated community of high-end architects, designers, and 3D creators. Initially, the categories will include NFT art galleries, DJ venues, shops, bars, homes, and interactive buildings.
Mark Studholme, co-founder of MetaMundo, has a suite of tools that converts, decimates and optimizes the original 3D 'parent' file provided by the creator to individual 'child' files optimized for each metaverse. They mint the parent file as one NFT using the ERC 721 contract, and this parent NFT is a wrapper for the child files and NFTs.
And for more information about the product itself, more information can be found at https://coinmarketology.com/could-this-new-metaverse-project-be-the-next-amazon-of-web-3-0/
Release ID: 89055549