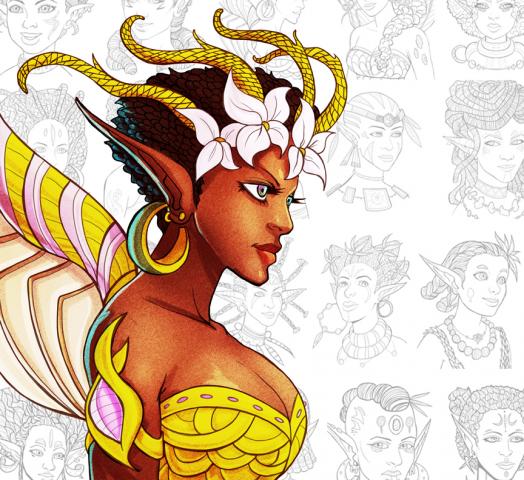 - August 27, 2019 /PressCable/ —
Customers looking for the latest adult coloring book will soon be able to purchase Coloring Muses Vol. 1 by Golden Muse. Today Eva Dennis, Founder at Golden Muse releases details of Coloring Muses Vol. 1's development.
Coloring Muses Vol. 1 is designed to appeal specifically to fans of fantasy and working mothers, and includes:
Over 30+ Exclusive Printable Pages – This feature was included because in order to provide the greatest benefit to the customer's mental health, different variations of pages would help reduce anxiety, stress, emotional issues, and an overactive mind. This is great news for the consumer as it will give them greater inspiration for new ideas, positive focused activity, and a guaranteed inner peace.
Detailed Line Art – This was made part of the product because each page will be engaging and a powerful receptor for the creative mind. Customers who buy Coloring Muses Vol. 1 should enjoy this feature because it will help provide an increase in energy and revitalization, especially when deeply focused on coloring detailed lines.
Unique Fantasy Characters – Golden Muse made sure this was part of the adult coloring book's development, as this will provide hours of creative focus on exclusively designed African fairy portraits, characters who are found no where else in the market. Customers will likely appreciate this because it will spark their imagination in the most unique way.
Dennis, when asked about Coloring Muses Vol. 1 said:
"I'm very excited about these books because it's something new for the genre of fantasy, and they'll provide a great benefit for anyone looking to improve their mental health. Most people aren't aware repetition is a powerful method to access their own creativity, and the more you expose yourself to positive visuals you admire, the faster you'll become naturally inspired in everyday life. There's no skill level required for coloring, and you can color every page however you want. You could even do this with your kids, to share a few hours of tranquil and enjoyable bonding."
This is Golden Muse's first release of a new product and Dennis is particularly excited about this release. Her being an artist who loves drawing and creating characters finds it inspiring to know these pages can benefit many beyond passive entertainment. And the chance to incorporate these books into the genre of fantasy, with hopes of bringing further enlightenment to others, is a powerful creative motivator to add.
Those interested in purchasing can go directly to the product listing, here: Coloring Muses Vol. 1
To learn more about the business Golden Muse, visit the main site here: Golden Muse
Release ID: 88912531