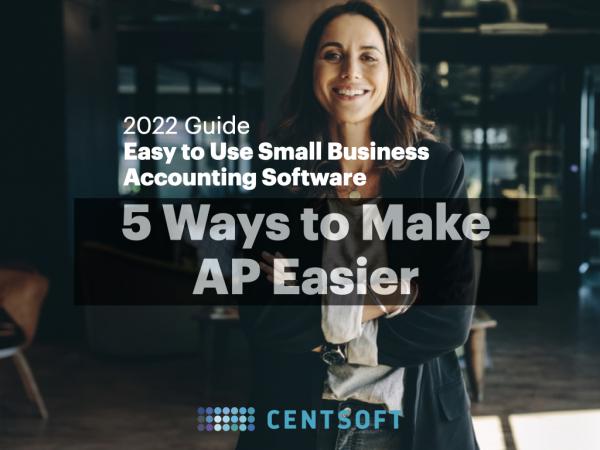 - March 8, 2022 /PressCable/ —
Centsoft, a leading provider of accounts payable automation, has published a guide about easy to use small business accounting software for accounts payable.
The guide, "Easy to Use Small Business Accounting Software – 5 Ways to Make AP Easier" gives tips on how to take the drudgery out of accounts payable activities. Entering invoice data manually, using email and spreadsheets to get approvals, and searching for invoices in numerous folders takes up time and resources. Automation eliminates a lot of the manual work finance administrators in small businesses struggle with when managing accounts payable.
https://centsoftautomation.com/case/2022-guide-easy-to-use-small-business-accounting-software/
Small businesses that receive vendor invoices are looking for ways to optimize their accounts payable to augment their current accounting system or ERP.
Currently, many businesses have to manually enter vendor invoice data into their accounting system, a tedious task at the best of times. The guide outlines ways to automate this process so that finance administrators can focus on more higher value work.
Vendor invoices have to be approved by the person in the organization that made the purchase. The guide shows how automation does this with workflows that send invoices to approvers on desktop, tablet or smartphone.
The guide also talks about the role of AI when coding invoices in the system. AI learns how an organization codes supplier invoices and then makes suggestions accordingly.
Invoices arrive by mail or email, and are scanned by Centsoft. The data inside each invoice is populated in an intuitive central dashboard. Finance administrators can check that the data is accurate, make adjustments, apply coding and send the invoice out for approval.
"Business owners want software that is easy to use" said Steven Stachyra, Sales Executive for Centsoft, "and Centsoft fulfills this demand with an intuitive, clean interface and functionality that saves small businesses time."
The guide also talks about searching invoices and invoice data. Centsoft has a searchable invoice archive that lets finance administrators search for any data whatsoever on any vendor invoice. The cloud-based archive stores all the invoices entered into the accounting system that have been paid.
Small business owners are concerned about integration. They want to know that any software purchased has to work seamlessly with their accounting system. Centsoft integrates with Quickbooks, NetSuite, Dynamics 365 BC, SAP B1 and more. Ledgers are imported into Centsoft so that coding can be handled as usual. When invoices are approved they are automatically transferred to the accounting system.
To find out more about Centsoft and get the Guide, visit: https://centsoftautomation.com/case/2022-guide-easy-to-use-small-business-accounting-software/
About Centsoft
Centsoft offers a robust, cloud-based AP Automation platform to streamline all of the steps in the accounts payable process. Centsoft's AI learns and proactively suggests vendor information and coding suggestions. Centsoft is a leading provider of SaaS solutions that automates the management of incoming invoices for over 1,600 companies. Centsoft easily integrates with popular ERPs and accounting systems.
https://centsoftautomation.com
Release ID: 89067010