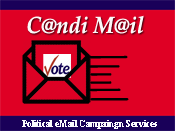 - November 16, 2020 /PressCable/ —
A record breaking 152 million votes were cast in the 2020 Presidential Election, and an obscure nationwide non-partisan political campaign digital tool service played a big part in the success of getting out the vote on election day. CandiMALL GOTV Store, a political digital marketing agency, with a West Coast presence in California, Salem, Portland Oregon, Yakima Spokane Seattle Washington, Reno Las Vegas Nevada, Phoenix Scottsdale Tucson Arizona, Las Cruces Alburquerque New Mexico and Houston Dallas El Paso Texas made over 163 million contacts with potential voters on behalf of their down ballot client using their various digital services from there digital political toolbox suite. .
CandiMALL GOTV Store's political toolbox suite consist of digital outreach tools. They delivered millions of candidate's messages needed to motivate voters effectively during the COVID-19 pandemic which forced candidates to rethink their voter outreach plans. Their toolbox contains robo calls, robo polls, emails, text messages, voicemail drops, social media ads, and there newest innovations, promo robos, geo targeted wifi ads, and a new secret delivery service they call Stealth which delivers a blend voice drops, and texts, that link to video ads or landing pages. CandiMALL GOTV Store also develops websites, graphic art, interactive personalized videos, and they provide services for reputation management and consulting all for politics since 1973.
CandiMALLs founder A D "Tony" Inocentes is the recognized inventor of political robo calls, robo polls, promo robos, which is the 2020 reinvention of the robo call, and the newest digital weapon branded Stealth. Asked about the increased volume of business the company handled during the Presidential election, he said "This was the greatest GOTV Outreach we have ever had to deliver and we met the challenge. Our volume was triple our norm because the pandemic changed all the candidates GOTV campaign strategies and we also saw a steep increase in our California political services because of consolidated election schedules."
Inocentes further stated, "CandiMALL GOTV Store's pricing is an attraction for candidates and their political consultants because the pricing is the most reasonable and, for some services, the lowest in the country.Moreover, our customer service is unquestionably solid and diligent."
Inocentes believes that the 2022 elections will continue to pivot from the traditional door knocking, phone banking campaigns in favor of the digital campaigning using, emails, robo services, text, Xoom online town halls and debates, and geo-targeted Wifi advertising.
CandiMALL GOTV Store is the political tool brand of ePolitical USA which is a member of the business, political and non profit promoter syndication Chemeria Consultancy founded in 1973.
Release ID: 88985809