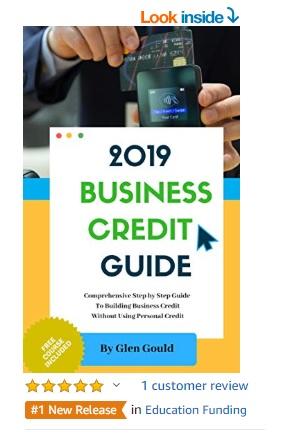 - April 30, 2019 /PressCable/ —
Entrepreneur, Author and Business Consultant Glen Gould is launching his brand new book, "2019 Business Credit Guide". The book was released April 26th 2019 and was Amazon's best-selling book on Saturday in two categories.
More information on the book can be found here: https://www.amazon.com/2019-Business-Credit-Guide-Personal-ebook/dp/B07R8DG3X8/
This is the second book Gould has authored. The book was written with the aim in mind to to educate business owners step by step on how to acquire corporate funding to scale and grow their business without having to use their personal funding or personal credit. There's also particular excitement about this launch because it became a #1 New Release on Amazon both in Education Funding and Corporate Finance. It was also ranks in the Top 5 of Amazon's Best Sellers in the Corporate Finance in less than two days.
2019 Business Credit Guide sets its main focus on business owners who don't know that their business has a corporate credit profile until their personal credit is damaged from having excessive expenses from their business. The focus of this book is to show entrepreneurs and business owners how establish their business to receive corporate funding options.. Readers will likely find a particular interest in Learn three of the Most Popular Types of Corporate Funding.. The book's cover art was created by Violet Gould and 2019 Business Credit Guide is being released by Ultimate Leverage LLC.
Glen Gould has a background in business consultation that helps companies refine their processes to become more profitable and be able to scale and grow. This helped shaped the creation of the book the author struggles for two years trying to figure out corporate credit for his business so he studied the requirements and interviewed vendors and lending institutions to see what the requirements were and how other businesses could qualify.
When asked about why he wrote the book, Glen said: "After struggling for two years I felt like it was my duty to share my secrets to success and help others have more corporate funding options."
Gould has hopes that the book will help millions of business owners to acquire corporate funding for their business while dominating Amazon as a best selling book for years to come. This positive outlook from the author is certainly testament to their optimism considering some of the mishaps during its creation. At one point the book took several months of revisions and updating information from the vendors and credit reporting agencies. .
In a recent interview, the author made a point of thanking his Mother Julie, his fiancé Ernetta, friends and family around the world for their part in the creation of the book, saying: "Thanks to my family for pushing me complete the book."
Those interested in learning more about the book can visit here:
https://www.ultimateleveragecapital.com/book
Release ID: 508035