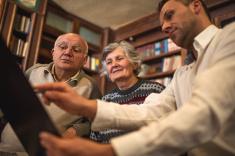 - August 24, 2018 /PressCable/ —
Each year Medicare announces changes to the and any Special Enrollment Period enrollment rules regarding Medicare Advantage and Part D drug plans. 2019 Annual Enrollment Period to the Medicare Advantage Disenrollment Period. In 2018, this MAPD period runs from January 1 st to only February 14 th. During this time a Medicare beneficiary can only drop a Medicare Advantage plan with integrated drug coverage and go back to original Medicare with a stand-alone part D drug plan. What is new for 2019 is Medicare has extended this MAPD period from February 14 th all the way out to March 31 st 2019. So, this means seniors on Medicare will have more time to make changes to their existing plan. During this extended enrollment period seniors will be able to make a one-time election:
– switch to a different Medicare Advantage Plan
– to drop a Medicare Advantage Plan and return back to original Medicare and pick up a Medigap policy and stand-alone drug coverage
– drop a stand-alone prescription drug plan
The Annual Enrollment Period, known as AEP, has not been changed for 2019. The AEP begins October 15 th and runs through December 7 th 2018 for a January 1 st 2019 effective date. During AEP seniors can make unlimited changes to their plans with Medicare accepting the last plan application by the deadline of December 7 th . Seniors will be able to make the following changes:
– go from one Medicare Advantage Prescription Drug plan to another
– change from one Stand-Alone Prescription Drug to Another
– go from An MAPD to stand-along part D along with original Medicare
– go from Original Medicare into an MAPD with drug coverage
It is important to note that seniors making changes to MAPD or stand alone PDP plans need not cancel the existing insurance plan in force. The reason for this is because Medicare will replace the existing coverage with the newly applied for coverage, making any cancellations on the existing insurance policy unnecessary. This rule only applies to stand alone PDP plans and MAPD plans and not Medicare Supplement Insurance Plans. Medicare Supplements would need to be formally cancelled only after newly elected coverage has been placed in force.
Many Medicare Advantage plans in Texas and around the country are undergoing benefit enhancements for 2019 which will significantly enhance the coverage levels currently provided to seniors on Medicare. This positive roll out will be available for the general public beginning the first week of October. Applications through insurance agents will commence no sooner that October 15 th per Medicare's AEP rules.
Contact IHS Insurance in early October to have those individuals send details on product offerings in the area.
Release ID: 397254