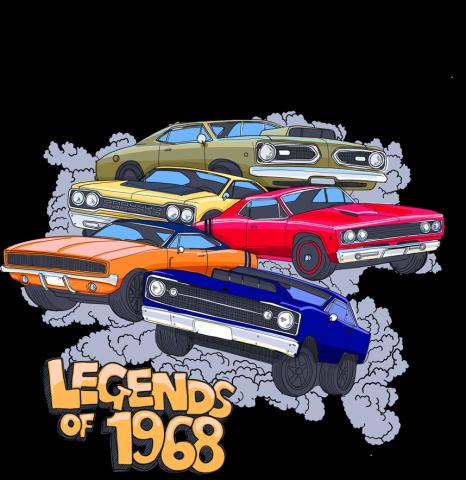 - May 23, 2018 /PressCable/ —
While the 'Transformers' franchise waits for its next edition, a spin-off called 'Bumblebee' is on its way this December. The story is based in the 1980s, and the car most likely to be used is the Volkswagen Beetle. The car looks cool in the animated visuals available, though online merchandise store Quarter Mile Addiction suggests there are also other alternatives available.
The 'Transformers' franchise added a huge imaginative dash to science fiction and the world of automobiles with Autobots, the self configuring and modular, extra-terrestrial life that can take the form of other machines and even cars. The 'Bumblebee' animated film could do well to take a look at the muscle cars and mopars of the 1960s and the 70s, which still enjoy a huge fan following today.
Quarter Mile Addiction recently launched a special tribute T-shirt, 'Legends of 1968' to celebrate 50 years of mopars and drag racing in general. The Tee features five iconic figures – the Super Stock Plymouth Barracuda, Plymouth Roadrunner, Dodge Coronet/Superbee, Dodge Charger and the Super Stock Dodge Dart.
"While the Beetle looks cute as a potential Autobot, our new T-shirt features five legends from the drag racing world, known for their muscle, speed and aggression. Any of these legendary cars could make for an equally exciting and popular alternative," says a spokesperson from Quarter Mile Addiction.
As Director Travis Knight has indicated, 'Bumblebee' will deviate from the main franchise plots, with liberty to add more humor and fun. That makes the mopars of the drag racing world a good addition to the spin-off.
The five muscle car legends that ruled the streets as well as the drag strips, can brought home from the official website of Quarter Mile Addiction. Merchandise includes premium T-shirts for men, women and kids of all ages and sizes, coffee mugs, wallpapers, hoodies and mobile phone covers. All products are made in the US and delivered with regular and speed shipping.
Information about the new t shirt release can be found here https://www.quarter-mile-addiction.com/first-muscle-car-legend-series
Release ID: 347748