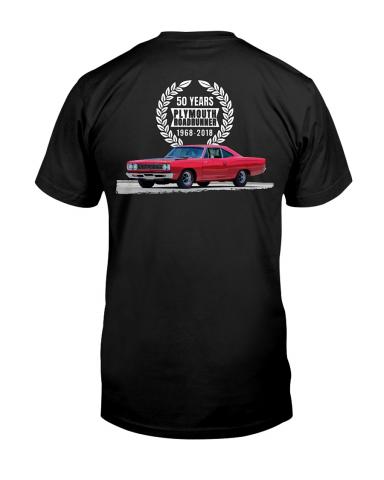 - March 17, 2018 /PressCable/ —
'Meep, Meep' for the Plymouth, the legendary super car of history that completes 50 glorious years in 2018. To honor the 1968 Plymouth Roadrunner, Quarter Mile Addiction has released a special tribute in the form of Premium Fit T-Shirt for men and women.
Drag car races took America by storm, and no wonder the speed, agility and sheer power went upwards. So much so that by 1968, muscle cars had not only gone mainstream, but evolved further with expensive special engines. The youth thus looked out for something cheaper, yet equally special. A mid-size car, Plymouth Roadrunner was the gift they were waiting for.
It has been called 'brazenly pure', 'non-compromising' and a super car. The Plymouth Roadrunner featured a no-frills big B body, and was meant for the younger generation to enjoy a race car that was inexpensive. Roadrunner quickly shot to fame with sales exceeding expectations. The addition of the Roadrunner cartoon, with Plymouth paying a good amount to Warner Bros, and induction of Wile E Coyote for advertising, added to the excitement. The 'Meep, Meep' horn itself was specially invented and had costed thousands. In 1968 itself, the Roadrunner sold 45,000 models.
The new Premium Fit T-Shirt celebrates 50 years of Plymouth Roadrunner in a special edition available in small and 3XL sizes, along with a color changing mug. The product carries soft signature cotton blend, is preshrunk and machine wash safe, and features rib-knit set-in collar and satin labeling. The new premium fit T – shirt release can be found here https://www.quarter-mile-addiction.com/1968-plymouth-roadrunner-50-years
All T-shirts at Quarter Mile Addiction are available in various sizes along with a special coffee mug featuring the same logo and slogan. Deliveries take 5-10 business days, with a rush 3-day service available for anyone dying to get their hands on the product. All merchandise is proudly printed in the United States.
For further info about nostalgia drag racing t shirts form Quarter Mile Addiction, featuring infamous slogans that were used to promote the sport of drag racing, see the link here quartermileaddiction.com
Release ID: 315872