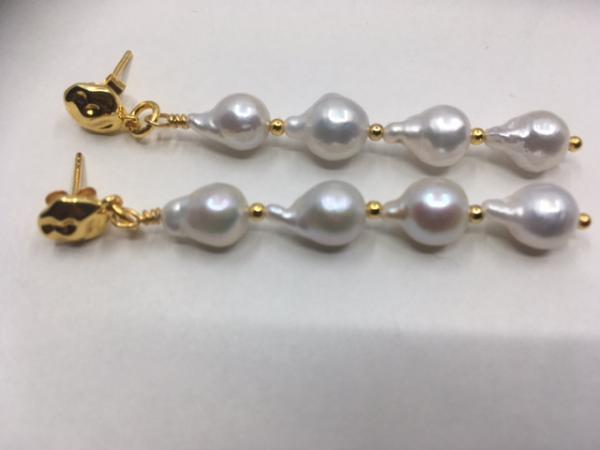 - February 12, 2022 /PressCable/ —
The shop's newest items are designed to be worn by women of any age for special occasions such as weddings and anniversaries. Each piece is handcrafted to be in line with the latest styles and trends.
More details can be found at https://gemladyinlondon.com/products/copy-of-large-amber-and-pearl-bracelet
Customers can now browse through Gem Lady in London's updated jewellery collection, which includes bracelets, earrings, and necklaces adorned with high-quality gemstones and precious metals.
Popular items include the Cognac Amber and Pearl Bracelet, which features an array of semi-round amber stones and a large freshwater Edison pearl in its centre.
Shoppers can also opt for the brand's 18ct Gold Topaz Cube Earrings. The elegant teardrop-style earrings are embellished with light blue topaz gemstones and dangle at a length of roughly 5.5 centimetres.
Due to their large, dramatic design, the shop's Gold Pearl Hoop Earrings can be worn to amplify any casual or formal outfit. The hoops are crafted from 925 silver and coated with 18-carat gold.
Customers can order the Gold Pearl Hoop Earrings at https://gemladyinlondon.com/products/18ct-gold-pearl-hoop-earrings
Other high-end pieces in the line include the 18ct Gold Long White Teardrop Pearl Earrings and the 18ct Rose Gold Teardrop High Lustre Pearl Earring, both of which are ornamented with high-brightness pearls.
Gem Lady in London also offers a variety of necklaces and pendants, including the 18ct Gold Edison Pearl Bib Necklace. Each pearl strung on the adjustable gold chain has a diameter of approximately 11 to 12 millimetres.
Those looking for a more subdued style can purchase the shop's 18ct Gold Pearl Pendant, which features a single drop pearl hung from a 925 sterling silver necklace.
A spokesperson for the company said: "We offer bespoke handcrafted jewellery. Our jewellery is unique with you the wearer in mind. We enjoy creating pearl earrings and necklaces in addition to gemstone jewellery."
Individuals who sign up for Gem Lady in London's newsletter and recommend the shop to a friend can currently receive a 25% discount on their next purchase.
Interested parties can find additional information or purchase a pair of 18ct Gold Topaz Cube Earrings at https://gemladyinlondon.com/products/18ct-gold-topaz-cube-earrings
Release ID: 89063807