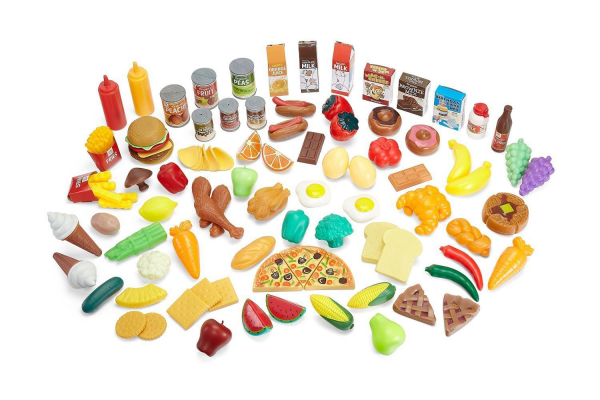 - May 10, 2017 /PressCable/ —
Mommy Please has many reasons to celebrate. They have been selling their 125-piece play food set for just over one year. During that time, it has become a top-seller in they play food arena, exceeding sales goals and projections month after month. Although this goal is an important one, Mommy Please has also set an aggressive customer satisfaction goal, and today announced that their projection for product reviews from customers has been exceeded.
"Since our product is sold exclusively on Amazon.com, we understand that customer satisfaction, and online product reviews are an important piece to the success of our play food set," explained Mommy Please company spokesperson Elise Murphy. "Our sales have been very strong for our play food set, but this is largely in part to the customer feedback and positive customer reviews on our Amazon.com listing. We are grateful for our customers, and for them taking the time to let other people know their opinions of our play food set."
The Mommy Please play food set is made of BPA-free plastic that is colorful and durable, making the toy great for ages 3 and over. With 125 pieces contained in the play food set, there is a large variety of foods, some considered health, and some considered "treat" foods. This variety is provided to ensure children are introduced to all food types, in the hope that this will provide them with the knowledge they need to make healthy food choices and understand what constitutes a balanced meal. Food choices include crackers, bread, grapes, strawberries, juice, broccoli, watermelon, mushrooms, ice cream cone, eggs, candy bar, corn, cucumbers, tomatoes, potatoes, apples, milk, asparagus, peppers, pizza, waffles and much more.
With over 400 customer reviews written so far, to date, 96% of customers say they like their play food set. The average satisfaction rating a 4.7 out of 5 stars. One satisfied customer, who is a verified purchaser of the play food set, wrote, "I went back and forth trying to decide which set to get for my grandson. At two he's always trying to feed me imaginary food. From imaginary to pretend he hasn't stopped playing with this set since it came today. My plan was to split it up as mentioned by another reviewer, but he wasn't having it! He's alway in the kitchen at my side everyday. This is a great little set that will be used outside as well in his little swing/table clubhouse area. My spring and summer I'm sure will be filled with many pretend meals."
Sold exclusively on Amazon.com, the Mommy Please play food set is currently on sale for $23.97, or nearly 50% off the suggested retail price. Any order over $49 will ship for free. Mommy Please offers an unconditional satisfaction guarantee on every play food set purchased.
About Mommy Please: "Mommy Please desires nothing more than to bring education, prosperity, and (most of all) Health for children around the world. By providing an education tool known as the healthy organic play food set, Mommy Please is gearing its resources towards this single goals, hoping to touch the lives of children and parents around the world."
Release ID: 198068