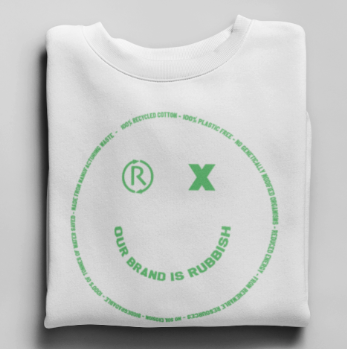 - June 1, 2021 /PressCable/ —
Ahead of the launch of its new 100% Recycled Cotton Sweatshirts, Rubbish London is making public five facts about clothing made from Recycled Cotton, which fans and consumers of sustainable fashion will find interesting and possibly eye opening…
1. Many fashion brands that advertise clothing made from recycled cotton are actually selling organic cotton clothing containing a small amount of recycled cotton which is blended into the material.
2. The recycled cotton content in some of these recycled cotton clothing products is as low as 29% however the product title is called a recycled cotton sweatshirt, t-shirt or hoodie.
3. As long as an item of clothing contains a percentage of a certain material a brand can say it's a 'said' material sweatshirt/t-shirt/hoodie which can be misleading if you think the item you are buying is made completely from the material in the product title. Although this may not seem right it is not illegal.
4. Fashion brands can do this because it is not obvious and as long as the product contains a percentage of the material stated they are not breaking any laws. If a brand calls a hoodie a recycled cotton hoodie and they are a reputable brand then you tend to not question or second guess whether the content of a product is 100% of the material stated in the product title. If you were buying a car that was called a car but contained only a small content of car and the majority was made from a bicycle then it would be obvious in its appearance but this isn't the case with clothing where materials can look identical.
5. Only a handful of brands worldwide sell clothing made from 100% recycled cotton. By law all companies have to state the composition of the materials used to make the item of clothing they are selling. This may be in very small print somewhere but it will be there. Next time you see a sustainable item of clothing advertised, look for the material composition. You may be surprised by what you find and what you thought you were buying might not be what you are actually getting.
Recycled fashion brand Rubbish London has always had the goal of creating clothing made from 100% recycled cotton since launching in 2019 and only recently due to advances in technology and dogged determination is this now a reality. This product was created to meet the growing demand in plastic free recycled fashion and alternatives to other sustainable materials.
Rubbish London is quoted saying: "We listen to our customers. We know that they are looking for new sustainable fashion choices and look towards us to bring them these new opportunities to develop their sustainable wardrobe. Our new range of 100% recycled cotton sweatshirts are already a big hit and we have been taking pre-orders since the beginning of May. We will be doing some exciting giveaways in the coming weeks via our social media so keep your eyes peeled."
The first design of Rubbish London's Recycled Cotton Sweatshirts is set to launch June 2021. To find out more, it's possible to visit https://www.rubbishlondon.co.uk/collections/sweatshirts/products/100-recycled-cotton-sweatshirt-pre-order
For more facts and further information about Rubbish London, this can be discovered at https://www.rubbishlondon.co.uk
Release ID: 89022186