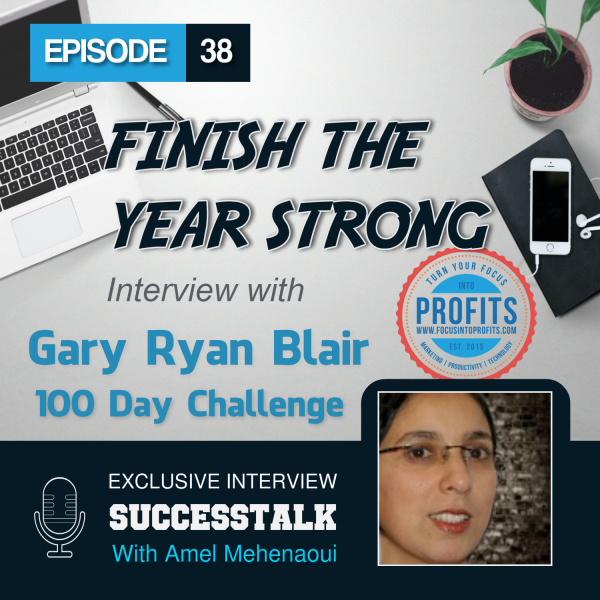 - September 27, 2016 /PressCable/ —
The end of year is approchaing fast and it's a great opportunity for everyone to reflect on the year achievements. It's an opportunity for everyone to make everything in their power to finish the year strong. For people looking to be more productive and focused this end of year then, Amel Mehenaoui has just released a exclusive interview of Gary Ryan Blair the founder of The 100 Day Challenge.
This exclusive interview covers tips and strategies to reach personal and professional goals and finish the year strong. It also covers more about the 100 Day Challenge program, a proven system for transforming lives and driving RADICAL RESULTS – FAST in just 100 days.
Author of The 100 Day Challenge, Gary Ryan Blair says "When you set goals in the context of a 100 day sprint, you no longer have the luxury of time. That's why the 100 Day Challenge is built to get you to operate with blistering speed and relentless execution".
Amel is offering two exclusive bonuses to anyone who enrolling to the 100 Day Challenge program through this link. The first bonus is a Live SuccessTalk Webclass with Amel and the second bonus is a step by step course that shows how to break bad habits by learning how the brain ticks through personal strengths and weaknesses.
It's important to understand that ALL unfinished goals, projects and relationships are the result of broken promises and low levels of accountability. So if you're excited about the idea of achieving your 10 year goal in 100 days, then you're absolutely going to love listening to this exclusive interview.
More information on the exclusive 100 Day Challenges Bonuses offered by Amel Mehenaoui for enrolling to The 100 Day Challenge program offered by Gary Ryan Blair, can be found http://focusintoprofits.com/100daychallenge
Listening to this exclusive interview is a must in order to finish the year strong.
###
About Gary Ryan Blair:
Gary Ryan Blair is kown as The Goals Guy and developed a reputation as someone immensely successful entrepreneurs, executives and even Special Military Forces go to when they need to step up their execution. He created the 100 Day Challenge to share the same methods he used to shatter sales goals, quickly grow a number of multimillion dollar businesses, and coach people to extraordinary performances.
About Amel Mehenaoui:
Amel Mehenaoui is a Digital Marketing Strategist who is passionate about working with marketers and website owners to help them get more traffic, increase visibility and make more money online.
Amel is also the founder of MobiWebMedia, a digital marketing agency in Montreal, Canada. Where she creates high performing Sales and Marketing Funnels for small and medium businesses to increase their website's traffic and improve their ROI. She also teaches SEO & Web Analytics, and offers tailored private training sessions to entrepreneurs, digital marketers, and in-house SEO specialists. Amel's goal is to help them improve their digital marketing campaigns' ROI. Thus, helping them take their business or career to the next level.
About FocusintoProfits:
FocusintoProfits was founded in 2015 and serves the Digital Marketing industry. It is known for simplifying marketing strategies and tools for business owners and marketing experts to help them grow their business. FocusintoProfits offer live Marketing, Productivity and Technology Talks, Live Webinars, Workshops, trainings, tutorials etc. to help marketers, consultants and business owners improve their expertise and grow their business by working smart and not hard. The main goal of FIP is to help them become a maven marketers and successful business owners by showing them how to drive more traffic to their offers, campaigns and website and improve their conversion rate to increase revenues and sales.
Release ID: 134508