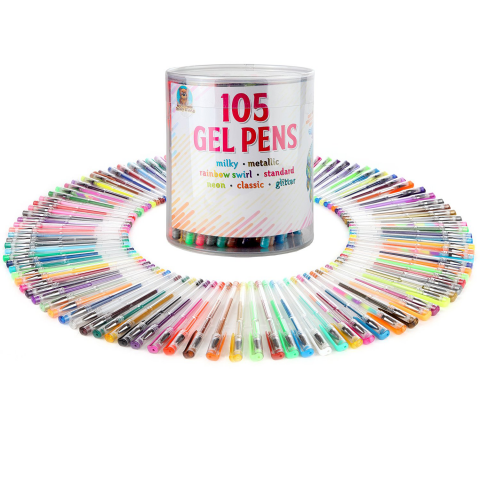 - January 9, 2017 /PressCable/ —
Since the launch of their 105-piece gel pen set two months ago, Teddy Shake has seen a continued increase and sales and interest in their product. The Teddy Shake gel pens are the perfect gel pen set for adult coloring books, or for use in other popular things; such has bullet journaling. Teddy Shake is offering giveaways to encourage more customers to try their gel pens.
"We understand that many things are moving towards technology. People keep phone numbers, contact names, calendars, and to-do lists on their phones or tablets now," said Teddy Shake spokesperson Bailey Anderson. "but for some activities, there is just something special about a pen and paper that cannot be replaced. Adult coloring books have continued to grow in popularity. Why color in them with some faded colored pencils, when you can use a high-quality gel pen set filled with vibrant colors? Bullet Journaling has also become very popular. This is a process where people jot their appointments, to-do lists, thoughts notes in a small notebook, and what better way to do that then with high-quality gel pens!"
The Teddy Shake gel pens are of the highest quality. The writing flow of the pen is smooth, and it does not skip or bleed while writing or drawing. In addition, the Teddy Shake gel pens contain 60% more ink than a standard gel pen. This means that the Teddy Shake pens can be used for much longer than an average gel pen.
Many color varieties, such as milky, neon, metallic, rainbow swirl and glitter are included with the Teddy Shake gel pen set. The gel pens can be purchased on on Amazon.com, and are currently priced at $24.99.
About Teddy Shake: "Desiring to make the world a more colorful and creative place, we at Teddy Shake work every day to ensure you have the best gel pens sets on Earth. With hundreds of colors and various tones, we put our gel pens through massive Research and Development tests to make sure your creative flow never stops and your creations are always perfect."
Release ID: 159769