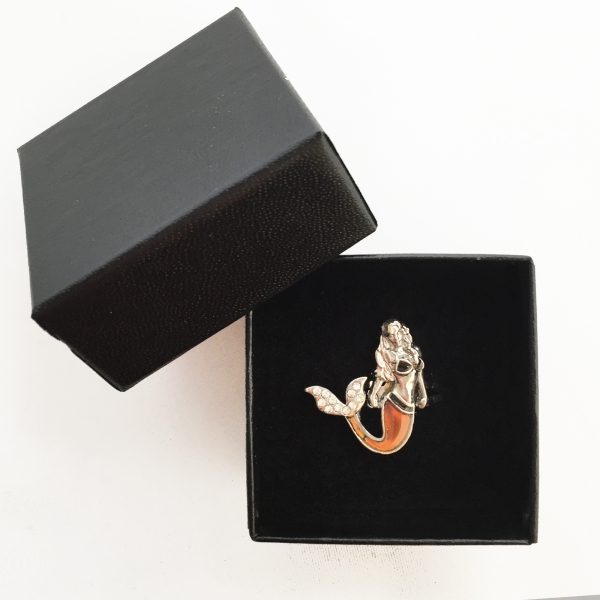 - August 5, 2016 /PressCable/ —
The Ocea Creations Mood Ring, quickly gives mermaid lovers an update of their state of mind at a glance and fits kids from 7 to 77.
Mikael Brisebois-Lemelin, brand manager for Ocea mermaid products, said, "We are so proud to have become the bestselling mood ring in this particular category. It's an easy-to-use, mermaid themed, and affordable product. Every good mermaid should have one. It also makes a great gift for mermaid friends."
The Mermaid mood ring indicates the wearers state of mind at a glance. Moods such as stressed, fearful, nervous, emotional, normal, happy, romantic, and calm are quickly identified through different colors and with the handy insert found in every Ocea Mermaid Mood ring box. The insert is translated to English, French and Spanish. Ocea Mermaid Mood gift boxes are available in black, purple and blue.
Mermaid mood rings also come with a postcard that can be used to send to a friend. The post card also entitles the bearer to save ten dollars off Ocea Creations Mermaid tails also available on Amazon.com.
Ocea Creations is a new brand from Montreal, Quebec. The company is a Canadian company employing people both at home and in the USA to provide quality fun products that spark the imagination of the young and the young at heart.
Mikael added, "Finding products and tailoring them to fit the needs and wants of our clients is so exciting. Receiving reviews whether they are for praise or in the "room for improvement" category, is great because it gives us the opportunity to know what works and to make even better products available every day. Our goal is to make people just a little happier every day."
Ocea Creations products inlcuding mermaid tails, tops, rings and more are currently available exclusively on Amazon.com and Amazon.ca.
Release ID: 126229