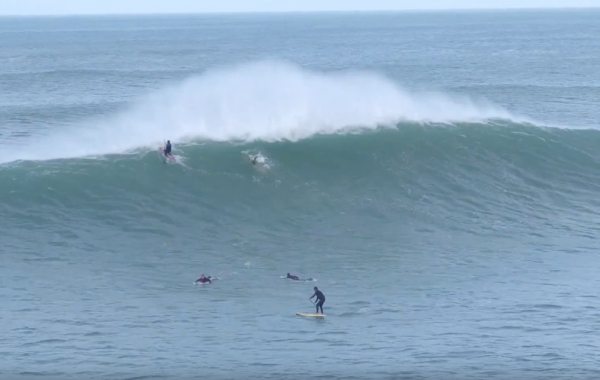 - March 10, 2017 /PressCable/ —
A video featuring aerial footage of massive waves off the coast of Cornwall has become a viral hit for drone film production company Light Colour Sound.
The video shot on location in Newquay, Cornwall shows the huge waves rolling towards the shore at famous big wave spot called the Cribbar.
When the video was released on Light Colour Sound's Facebook page, the beautiful film became an instant hit generating thousands of views, shares, comments and likes.
The Cribbar video can be viewed on Facebook or on YouTube.
The Cribbar wave only appears a few times of year when a large, long range ocean swell combines with light winds to produce a spectacular breaking wave at the rocky headland close to Fistral Beach.
Newquay is a popular surfing town so the arrival the Cribbar is met with huge excitement by local wave riders and spectators. Light Colour Sound's aerial video captures the magic of the Cribbar as surfers attempt to catch the moving liquid giant with varying success.
Surfing videos, especially those featuring big waves, tend to be very popular on social media as they provide a stunning spectacle of the bravery, aptitude and athleticism of surfers at gorgeous locations around the planet. So the rare appearance of these massive waves close to a prominent Cornish town were bound to do well online.
James Keith from Light Colour Sound commented: "We travel all over the world filming spectacular landscapes in far-flung locations. So the opportunity to capture footage of this natural phenomena on our own doorstep was too good to miss.
"The videos we post online tend to be well received but the footage of the Cribbar far exceeded all expectations. It was a great feeling to see such a buzz about our film which shows this notorious local wave in all its glory."
Light Colour Sound is a Cornwall based film production company and drone aerial filming specialist. The team of camera and drone equipment operators create promotional videos and documentaries for clients all over the world, as well as collaborating with organisations such as the BBC and National Trust on TV dramas and films.
For its Cribbar footage, Light Colour Sound used its DJI Inspire X5R drone to hold its professional video camera steady in the skies above Fistral Beach.
James Keith added: "It was great to be able to use our best equipment to showcase the kind of film we can produce. On the day, all of the elements combined to produce the perfect conditions for a shoot of this kind. We'll keep watching the weather reports and swell forecasts so we can shoot even more golden footage when the Cribbar returns again in the future."
Release ID: 176939