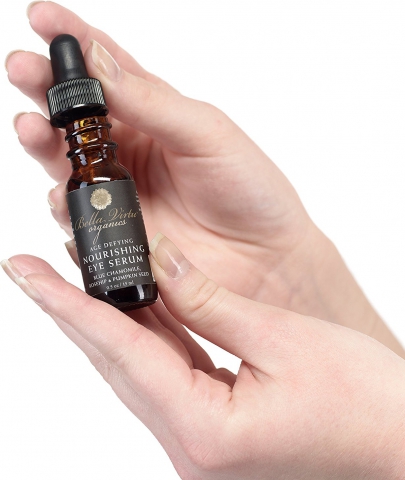 - September 27, 2017 /PressCable/ —
Aging takes a toll on the body and the face. Dark circles, puffy eyes, and fine lines and wrinkles creep up and become a resigned part of the aging experience. Perhaps eye serums and creams have been tried, all sorts of products, and while they look promising, they don't seem to improve the skin. Bella Virtu Organics has a new and improved formula on the market, the Age Defying Nourishing Eye Serum.
Increasingly companies use the terms "organic" and "100% natural." These terms are loosely based on fact most of the time. Bella Virtu Organics is a family-owned business that takes these terms seriously, founded on the principles of minimizing the signs of aging naturally. There are seven ingredients, all USDA certified organic oils, in the Bella Virtu Organics Eye Serum. Each oil serves a particular purpose in helping energize and revitalize the delicate skin around the eye area.
https://www.amazon.com/Natural-Under-Serum-Circles-Puffiness/dp/B00KGJVVDK/
The mixture of the seven essential oils creates a formula that assists with renewed collagen production, containing a powerful potion of Vitamins A, C, E, Zinc, Omega 3 & 6 to fight free radicals and skin discoloration. Rosehip, pumpkin, geranium, blue chamomile, helichrysum, castor, and safflower oils are the only ingredients in the Bella Virtu Organics Eye Serum. Reading the ingredients is a breath of fresh air, finally a list that is easy to read and recognizable names, not chemical after chemical in a long stream of additives.
This Eye Serum is recommended for and used by both men and women. A gentle scent, (naturally occurring from the oils themselves) and a light texture blends into the skin easily without a residue. Moisturizing and hydrating the skin, the results can be seen in a few weeks. A 100% satisfaction guarantee comes with each purchase.
Cruelty-free, non-GMO, certified organic and 100% natural ingredients, the Bella Virtu Organics Eye Serum is hands-down the right choice in serums. It can be used around the eyes, lips, and even chest or tops of hands for age spots.
For more information, go to https://www.amazon.com/Natural-Under-Serum-Circles-Puffiness/dp/B00KGJVVDK/
Release ID: 243371